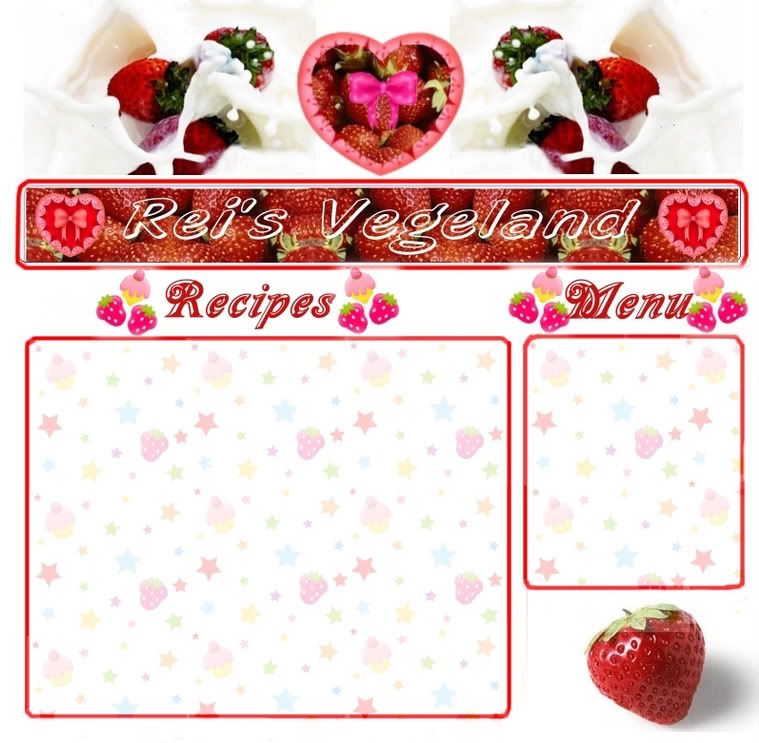 ---
Monday, June 02, 2008
This is so simple to prepare at home. When you're hungry and alone at home and yet you don't want to cook unhealthy instant noodles, you can try to whip up a simple meal of udon noodle soup with those seasonal veg lying in yr fridge.
What you need:
1 pkt Udon Noodles
1 tbsp White Miso
1 tbsp Soy sauce
1 tsp veg stock granules
few strands of wakame
few golden needle mushrooms
few Chinese Mushrooms, soaked & drained
few slices of carrots
few slices of mock bacon
Water for soup


Method:
Bring the water, wakame,chinese mushrooms, soy sause and stock granules to a boil. Add noodles and golden needle mushrooms. When it boils again, off the fire and stir in the miso. Serve in a bowl and garnish with the mock bacon.
Whipped up @ blogger @ 1:34 AM
---

What you need:
Method:

Whipped up @ blogger @ 1:31 AM
---

What you need:
Method:

Whipped up @ blogger @ 1:24 AM
---
Friday, May 30, 2008


What you need :

1 pkt silken tofu
oil for frying
2 tablespoon soy sauce
1 green onion,
1 tsp minced garlic
1 tbsp Korean chilli paste
1 tsp wo hup vegetarian XO sauce (optional)
1 teaspoon sugar
1 tablespoon light corn syrup
1 teaspoon sesame oil

Method :

Cut tofu into 2 cm slices and pan fry till both sides are golden, drain the oil and set aside.
Pour away excess oil from the frying pan. Fry garlic till fragrant, add all the other ingredients and bring to simmer. Simmer until desired consistency is achieved. Serve with rice.

Whipped up @ blogger @ 3:53 AM
---

Thursday, May 29, 2008

What you need:

2 local potatoes, peeled and 1cm cubed
1/2 Onion, Sliced (Can replace with celery or omit if you don't take)
2 tbsp Water
1 tbsp Sesame Oil
1 tbsp Korean red pepper paste
1 tsp Korean red chile powder
2 cloves of garlic, crushed (can be omited)
1 tsp Soy Sauce
1 tsp Sugar
1 tsp Sesame Seeds

Method:

Stir fry the potatoes and onions in oil
Add the gochujang, gochugaru, garlic, soy sauce, sugar, corn syrup, and a little water.
Cover and turn down the heat.
Cook until the potatoes are tender.
Serve with sesame seeds as garnish. Can be served hot or chilled.

Whipped up @ blogger @ 10:05 PM
---
This seasoned spinach apetizer is a light Korean side dish that can also be used in other Korean main dishes .I like mine with bibimbap (rice with mixed vegetables).

What you need(serves 5-6 as a side):

400- 500g spinach
2 Tbsp soy sauce
1 Tbsp sesame oil
1 Tbsp toasted sesame seeds
2 tsp Braggs Aminos ( replace with Maggi Seasoning or just Soy Sauce if N.A)
2 tsp Sugar
1 tsp Salt
2 cloves finely chopped garlic (optional)


Method:

Blanch the spinach in boiling water for 30 seconds.
Remove spinach quickly and rinse in cold water.
Gently squeeze the spinach to remove excess water.
Combine the rest of the ingredients and mix into spinach.

Whipped up @ blogger @ 9:46 PM
---

Thursday, May 24, 2007

What you need:

2 eggs, beaten
1 3/4 cups skim milk
1/4 cup canola oil
1/4 cup unsweetened applesauce
1 teaspoon vanilla extract
1 cup whole wheat pastry flour
1/2 cup flax seed meal
1/4 cup wheat germ
1/4 cup all-purpose flour
4 teaspoons baking powder
1 tablespoon sugar
1/4 teaspoon salt


Method:

In a large bowl, whisk together the eggs, milk, oil, applesauce, and vanilla. Beat in whole wheat pastry flour, flax seed meal, wheat germ, all-purpose flour, baking powder, sugar, and salt until batter is smooth.
Preheat a waffle iron, and coat with cooking spray. Pour batter into waffle iron in batches, and cook until crisp and golden brown.

Whipped up @ blogger @ 12:28 AM
---
What you need:

2 egg yolks
1 teaspoon vanilla extract
1 cup buttermilk
1/4 cup butter, melted
1 cup all-purpose flour
1 1/2 teaspoons baking powder
1/2 teaspoon baking soda
1/2 tablespoon white sugar
1/4 teaspoon salt
2 egg whites
1 pinch ground cinnamon


Method:
Preheat your waffle iron.

In a medium bowl, whisk together the eggs, vanilla, buttermilk and butter until well blended. Combine the flour, baking powder, baking soda, sugar, salt and cinnamon; stir into the buttermilk mixture.

In a separate bowl, whip the egg whites with an electric mixer until stiff. Fold into the batter.
Spoon batter onto the hot waffle iron, close, and cook until golden brown. Waffles are usually done when the steam subsides.

Whipped up @ blogger @ 12:28 AM
---

Monday, May 21, 2007

Ingredients:

2 pieces of beancurd sheet (8 x 8 inches)
2 pieces seaweed (4 x3.5 inches)
500g "dou bao"
1 tsp shredded ginger
A little Batter

Seasoning:

10 pieces femented beancurd (南乳)
1 tsp sesame oil
1 tsp salt
1/4 tsp pepper powder


Method:

To make the filling, tear the Dou Bao into 2 portions. Add in seasoning, mix well.

Spread the beancurd sheet, brush with a little batter and cover with a piece of seaweed. Place half of the "dou bao" mixture on it , roll up and insert both ends. Steam over high heat for 20-25 minutes. Remove and leave to cool.

Whipped up @ blogger @ 4:33 AM
---
Ingredients:

50g Carrot (pounded finely)
15g Konnyaku powder
3/4 tsp alkaline water
1 tsp salt
120 ml boiling water
180 ml water


Method:

Combine alkaline water and boiling water. Pour in water, carrot paste & Konnyaku powder. Mix well.

Pour the mixture into a square pan. Leave aside for about 2 hours till set.

Remove the set konnyaku cake. Cut into long strips, then divide into small sections and form into prawn shapes.

Put the prawns in boiling water and cook over low heat for 30 mins. Dish up and cook again in boiling water with a little rice vinegar and salt. Cook for a further 10 mins. Remove and soak in cold water.

Whipped up @ blogger @ 4:05 AM
---
Ingredients:

360 ml Carrot Juice
30g Konnyaku powder
1 1/2 tsp alkaline water
240 ml boiling water
1 piece cellophane paper


Method:

Combine alkaline water and boiling water, pour into carrot juice. Mix lightly until well combined.Add Konnyaku powder. stirring frequently till thickened.

Pour the mixture into a rectangular breadpan lined with cellaphane paper. Steam over medium heat for 1 hour.

Soak the steamed konnyakuinto water until cool. Remove, cut into slices and florets. Roll up & prick with bamboon stick and leave to set.

Blanch the squids in boiling water with a little rice vinegar and salt. Remove and drain.

Whipped up @ blogger @ 3:57 AM
---
Ingredients:
1 piece of beancurd sheet
6 pieces (7 x 4 inches) seaweed
10 pieces of "dou bao"
6 chinese mushrooms
1 piece of soft bean curd
1 tbsp cornstarch

Seasoning:
1 tsp sesame oil
1tbsp fresh ginger juice
1/2 tsp salt
1/4 tsp pepper

Method:

Cut the beancurd sheet into 10 x 6 inches each. Soak the chinese mushrooms in water until soft, remove and shred. Chop the Dou Bao and mash the beancurd until well combined. Set aside.


MIx the chopped Dou Bao ,shredded mushrooms, beancurd paste, seasoning and cornstarch together till well combined.

Spread the beancurd sheet, brush with a little batter and cover with a piece of seaweed. Place enough "dou bao" mixture on it , roll up as a spring roll. Steam over medium heat for 10 minutes.

Whipped up @ blogger @ 3:48 AM
---
2 pieces Beanskin
Some egg noodles
A little Batter

Filling:
2 pieces Twa Kwa
5 Chinese Mushrooms
300g Sweet Turnip
1 Carrot
1 Stalk celery

Method:
1.To make filling, cut all ingredients into 3 inches long strips.Combine with seasoning. Keep aside.

2.Cut the beancurd sheet into 4 inches squares.Place one of each kind of filling on top of it. Brush with a little batter. Wrap into the shape of a prawn and tie with noodles.

Whipped up @ blogger @ 3:41 AM
---
Wednesday, January 31, 2007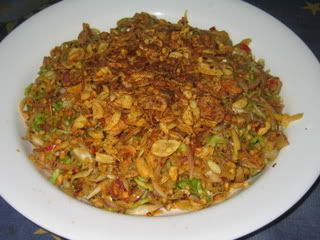 What you need:

3 cups shreded cabbage
1 cup shreded canned bamboo shoots( squeeze dry)
2 medium red onions, sliced
2 small green chilies
1 - 2 tsp myanmar chilli powder, according to yr threshold for spiciness
2 tbsp sesame oil
2 tbsp roasted gram flour
4 to 5 tbsp tamarind juice, thick
2 tbsp roasted peanuts
2 tbsp fried onions
1 tsp fried sliced garlic
1 tablespoon (or to taste) Soy sauce
Salt, as needed


Method :

Cut green chilies finely, discarding seeds if you wish.

Mix roasted myanmar chilli powder in salad bowl with sesame oil till smooth.

Add cabbage, shreded bamboo, sliced onions, green chilies, gram powder, peanuts, 1/2 of fried onion and soy sauce into the salad bowl with chilli powder in oil and mix well.

Taste and add salt as needed. Mix well. Serve dressed with remaining fried onion and fried garlic.

Tips: Roasted Gram Flour, Myanmar Roasted Chilli Flakes, fried garlic and onion can all be bought at the myanmar stores in Peninsular Plaza

Whipped up @ blogger @ 7:45 AM
---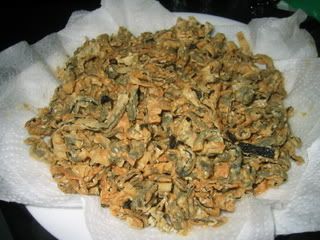 What you need:

1 pc Dried Bean Skin
1 pc Seaweed Sheet
50g Flour
50g corn starch
White sesame seeds
Oil for deep frying


Method:

Mix flour with water to be thick batter. Spread a thin layer of paste on to bean skin. sprinkle sesame and lay seaweed on top. Wrap and cut into slices. Dip into corn starch to make drier. Deep fry till golden.

Whipped up @ blogger @ 6:26 AM
---
Saturday, January 13, 2007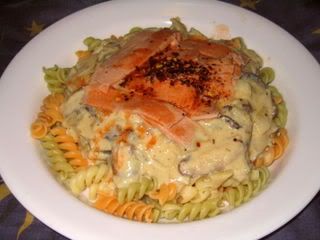 What you need:

Blend into smooth paste:
250gms silken tofu
100 ml Veggie Brooth
3 level tbsp nutritional yeast flakes
2 Tsp tahini
1½ Tsp light miso
1 tsp Maggi Seasoning
1 tsp salt
1 tsp prepared yellow mustard

2 cups Fusilli, cooked and drained
1 tbsp Extra Virgin Olive Oil
6 Shitake Mushrooms, Washed and sliced thinly
Vegetarian Ham, sliced thinly
1/2 tsp Italian herbs
1/2 onion, chopped
2 cloves garlic, chopped
Crushed Pepper Flakes
Tabasco Sauce

Heat Extra Virgin Olive Oil in a saucepan. Stir-fry garlic and onion till soft. Add herbs and mushroom and stir-fry till soft. Pour in blended tofu. Turn heat to low. Remove from heat when it boils.

Pour cheesy sauce over the fusilli pasta and garnish with mock ham.Add Crushed Pepper Flakes & Tabasco Sauce according to tastes.

Whipped up @ blogger @ 4:43 PM